Set in the heart of the mountain-ringed Robertson Valley in South Africa's Western Cape, Springfield Estate is a vibrant, family-run wine farm. It is owned by the Bruwer family, fifth-generation wine farmers and ninth-generation descendants of the Bruères, French Huguenots who came to South Africa from the Loire in 1688 with bundles of vines under their arms.
Many of the wines at Springfield Estate are made using natural yeast, with Abrie Bruwer being one of the pioneers in the country using this technique. This allows the character and the individuality of the grape to truly show itself. Due to the wild yeast fermentation, the family strives to work as naturally as possible, both in the vineyard and the cellar, with minimal sprays used in the vineyard, and a hands-off approach in the cellar.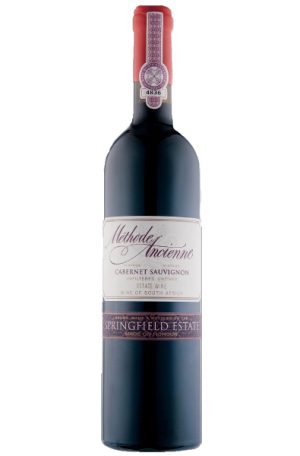 Thirty-five years ago, Springfeld cleared a 2.8-hectare triangle of land previously ignored because it was not 'good' enough - "too rocky and too steep". Cabernet Sauvignon was planted, struggling at first with virtually no soil. The miracle was in the fruit: tiny berries – intense in colour and flavour, this meagre crop was vinified in the traditional way. No crushing of berries, native yeast only, no fining and no filters. Wine was made with little intervention and kept for two years in new French barriques. After three more years of maturation in bottle, Springfield releases their top wine. It is a piece of their history, their passion and labour. It is their finest expression of Cabernet Sauvignon, and will age effortlessly for another two decades.