Liberty offers a wonderful selection of products to complement any wine experience. From the latest in corkscrews and glassware to specialty gift baskets, we have something special for every connoisseur.
*Liberty Wine Merchants cannot guarantee nut-free products in our gift baskets.
Keep It Simple
The All Occasion Gift
Gift Includes:
One bottle of wine

Choose from Red, White or Rosé (Joya Brand from Lisbon, Portugal)

Focaccia Crisps Tuscan Style Crackers (170g)
Gourmet Italian Olive Medley (327mL)
Asparagus Asiago Bruschetta Spread (340g)
Classic Cocoa Truffles (200g)
Chocolate Almond Butter Crunch (150g)
Hand Crafted Biscotti (64g)
Cream Filled Rolled Wafers (85g)
Florist Tag
Packaged in a black box with cellophane wrap and a bow.
$69.99
plus taxes and bottle deposit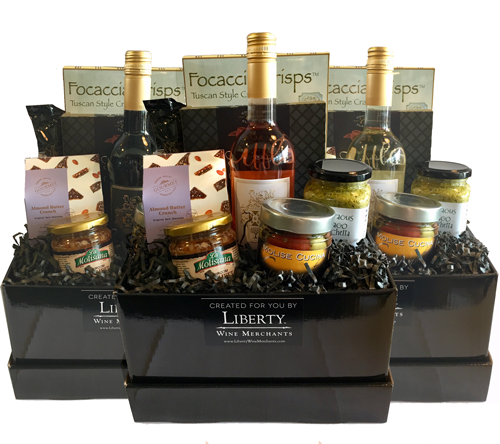 DEADLINE FOR LOCAL DELIVERY BY DECEMBER 25th
WITHIN GVRD: Deadline has now passed.
OUTSIDE GVRD: Deadline has now passed.
The Bespoke Option
The Custom A La Carte Gift
Step 2: Select Food Add-Ons
Step 3: Select Accessories Add-Ons