Liberty offers a wonderful selection of products to complement any wine experience. From the latest in corkscrews and glassware to specialty gift baskets, we have something special for every connoisseur.
*Liberty Wine Merchants cannot guarantee nut-free products in our gift baskets.
Keep It Simple
The All Occasion Gift
Gift Includes:
One bottle of wine

Choose from Red, White or Rosé (Joya Brand from Lisbon, Portugal)

Truffle Hunter Black Truffle Crisp (100g)
Jose Lou Spanish Olives (370mL)
Tapas Spanish Handmade Crackers (160g)
Chocolate Almond Butter Crunch (150g)
Salt Spring Kitchen Spicy Tomato (125ml)
Florist Tag
Packaged in a black box with cellophane wrap and a bow.
$69.99
plus taxes and bottle deposit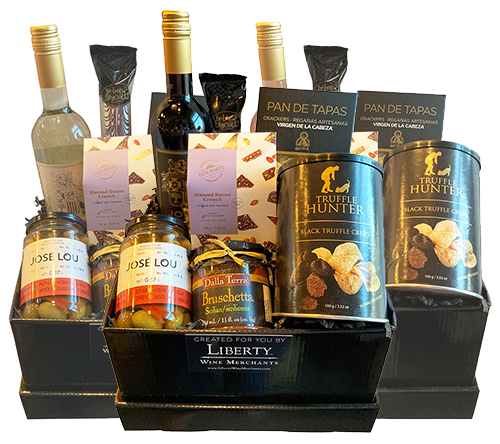 The Bespoke Option
The Custom A La Carte Gift
Step 2: Select Food Add-Ons
VEGAN FRIENDLY

–
denotes the item does not contain any animal bi-products but are not certified vegan.
Step 3: Select Accessories Add-Ons