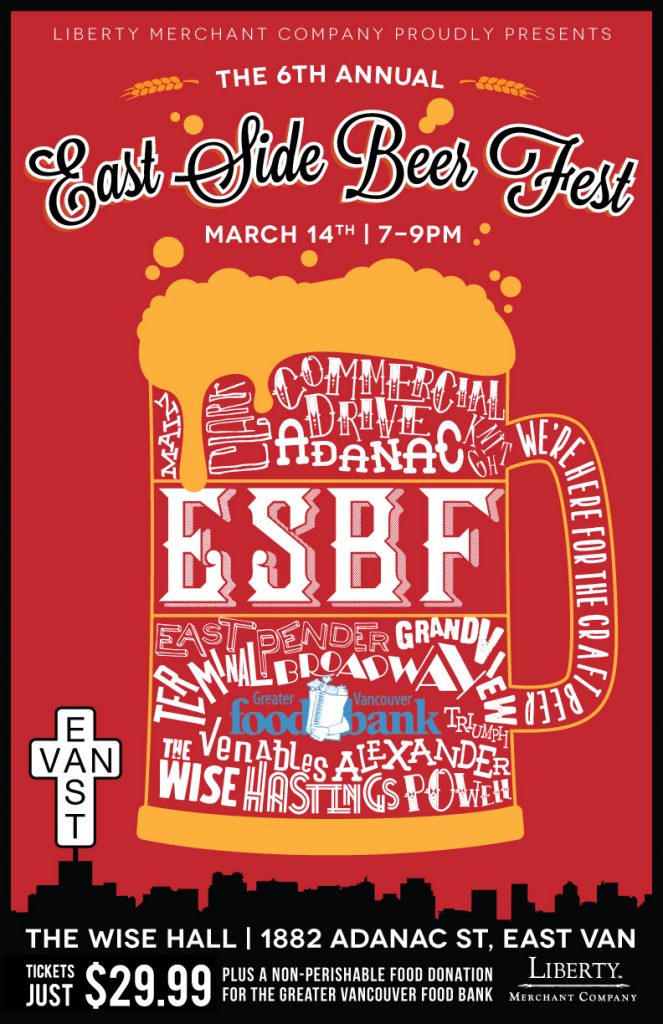 Liberty Merchant Company proudly presens the Annual East Side Beer Fest at The WISE Hall. This Liberty-sponsored event series is in support of the Greater Vancouver Food Bank Society (GFVBS), which provides food for up to 25,000 people in need each week. All proceeds from this event directly support the GVFBS.
Past Participants:
Bomber. Bridge. Britannia. Central City. Collective Arts. Dageraad. East Van. Four Winds. Luppolo. Off The Rail. Parallel 49.Parkside. R&B. Riot Brewing. Slow Hand. Steamworks. Strangefellows. Strathcona.Westbier. Yeast Van. Yellow Dog.
Taking place at The WISE Hall, the event features craft beers from BC and around the world, along with a silent auction and door prize. 
COVID-19 UPDATE:
In keeping with local Health and Safety Guidelines in light of COVID-19, all fundraising events and in-store tastings have been postponed until further notice.
You may still donate to the Greater Vancouver Food Bank directly. Please visit their website (www.foodbank.bc.ca) for more information.